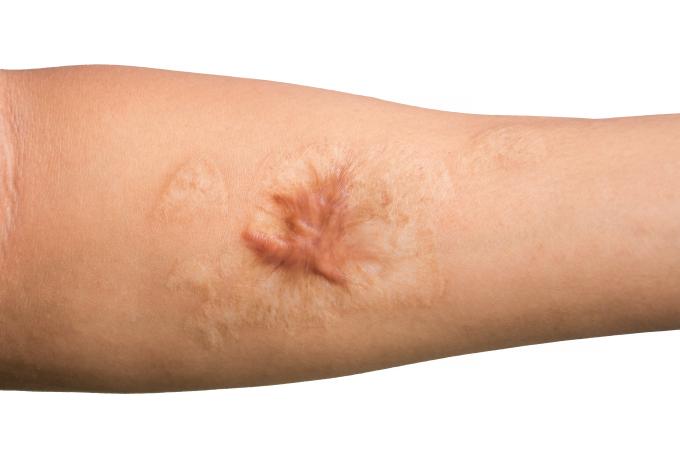 What is scarring?
Healing is a skin repair process that takes several months and includes different stages. After a skin break occurs, a clot develops almost immediately with an inflammatory reaction consisting of an influx of cells, particularly platelets to produce growth factors while enzymes clean the wound. This phase lasts around ten days while the repair itself starts from the first day with the formation of granulation tissue which is gradually covered by the epidermal cells to close the wound. This phase obviously depends on the size of the wound and can last for a month. Then comes the remodelling phase, which entails modification of the collagen and extracellular matrix and can last for several months.
Some factors may disrupt this normal healing cycle. Some may decrease or prevent adequate healing: this applies to low oxygen in the wound, undernutrition, certain diseases such as diabetes, certain medications such as long-term oral steroids and immunosuppressants. Conversely, in other cases there may be excessive healing, often due to excessive tension at the wound edges. This is why wound edges are sutured wherever possible. Other factors play a role, such as a location at the front of the chest or earlobe, the type of wound (burns) and also genetics (dark skin).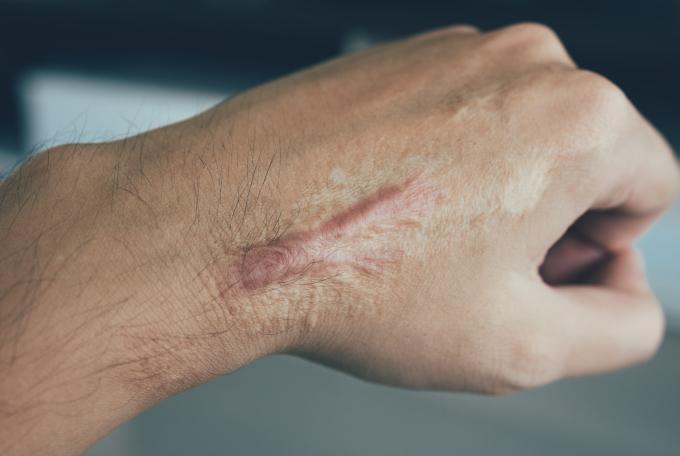 Excess healing leads to the formation of hypertrophic scars and sometimes keloids
 
A hypertrophic scar
is a scar that remains very visibly inflammatory (red) for longer, is firm, raised and sometimes causes itching. It eventually subsides over time.
 
A keloid scar
in addition to being hypertrophic, and even sometimes even almost tumour-like, is purplish-red extending sideways sometimes in a crab's claw shape. It persists and does not progress over time.
How should abnormal scars be managed?